The Legend Of Tatambani
28th Dec 2017 21:18 Shubhi, Saranya
Tweet
Today is the birth anniversary of not one but two dynamic business tycoons responsible for shaping the economic topography of India. To give you a hint, their names are synonymous with success and prosperity. Yes! you have guessed it right! We are talking about none other than Dhirubhai Ambani and Ratan Tata.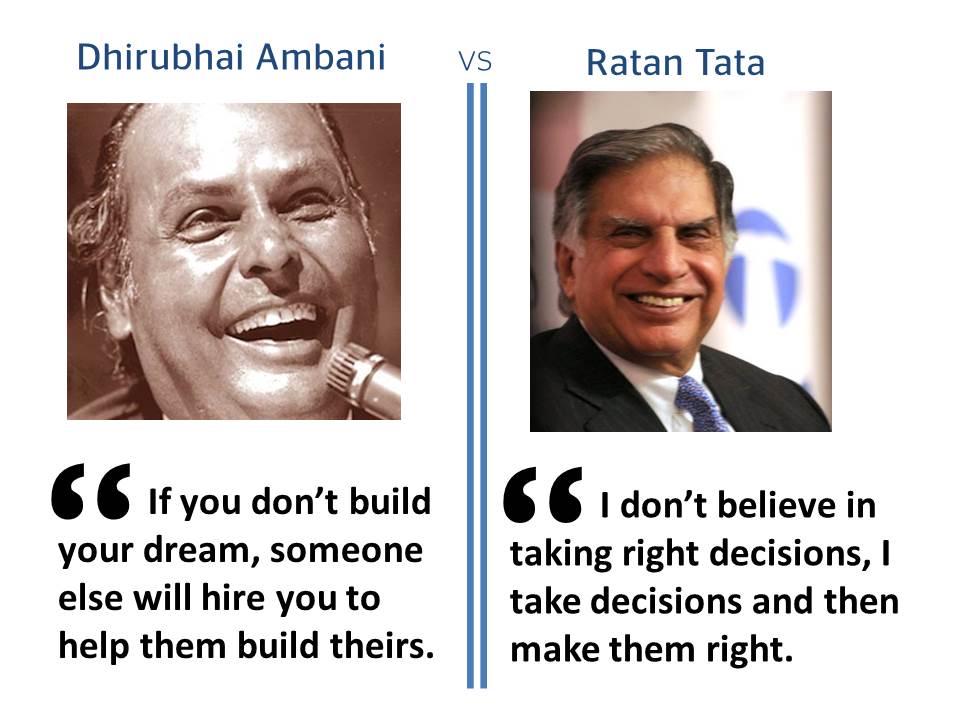 Source: PBS
Where Dhirubhai's dauntless entrepreneurial spirit and overreaching ambition uprighted the most profitable company of India, Reliance, Ratan Tata, with his fiery instinct and an uncanny knack for business, took his ancestors' business to astounding heights by achieving international recognition for Tata group of Industries.
Dhirubhai, like any kid hailing from a family of limited means, had more aspirations than pennies to count in his pocket and hoped to make huge piles of money one day. Bitten by the entrepreneurial bug at a young age itself, he sold bhajias to pilgrims and retailed groundnut oil at a profit to earn a few extra bucks. A hustler by nature, he was determined to make a name for himself.

Aware of his financial insufficiencies but confident in his capabilities, Dhirubhai set out to make it big in life only to find his journey rife with setbacks. After completing his matriculation in 1949 he was on his way to pursue a bachelor's degree, that would be instrumental in securing him a job. However, he found himself facing choppy waters when his father stopped keeping well, and the responsibility of keeping his family afloat fell on his young shoulders. As he boarded the ship to Aden, where his father had arranged a job for him in an oil company, he bade goodbye to his dreams and aspirations that he would later go on to fulfill beyond all expectations.
Source: scrolldroll
Nine years later in 1958, Dhirubhai came back to India, teeming with youthful enthusiasm, eager to take the entrepreneurial plunge. In the time he spent there as a clerk, he learned every lesson and trick the corporate world had to offer, and discovered his uncanny instinct for speculative trade. Ready to put his entrepreneurial acuity to test, he invested a sum of Rs 50,000 and opened a small company dealing in spices and polyester by the name of "Reliance Trading Corporation".
At its outset, the company was rejected by several wholesalers at the instance of other established corporations. The threat posed by these corporate giants would have been enough to derail any young entrepreneur, but not Dhirubhai. He stood unflinching in the face of adversity and got to work exercising his consummate networking skills to create a niche for Reliance in the big bad world of the Indian corporate sector. Gaining a foothold in the spice and polyester industry, he shifted focus to the textile sector on recognizing its vast potential and went on to rebrand as "Reliance Textiles Corporation". With time the company diversified into Petrochemical, Telecom, Finance, Retail, Power, Energy and many other sectors to finally became the corporate behemoth known to all of us today as the "Reliance Group of Industries".
"If you work with determination and with perfection, success will follow."- Dhirubhai Ambani, Reliance Group of Industries.
His mantra for success clearly worked its magic when Reliance earned a spot among the Fortune 500 companies of the world, making it the first ever private Indian company to achieve this feat. From thereon it was all about creating history. His relentless efforts to uphold the company motto, "Growth is life" charted the expansion of Reliance from an establishment valued at Rs. 70 crores to an empire worth Rs. 70,000 crores. Today the Reliance group is a force to be reckoned with and stands as a hallmark of trust and service in our country.
Source: geniusbiographies
From being barely able to make ends meet to building India's largest industrial empire, Dhirubhai Ambani left no stone unturned in leaving behind a legacy that shall always remain immortal in the hearts of Indians.

Juxtaposing Dhirubhai's humble beginnings with Tata's wealthy upbringing, one might say Ratan Tata had it easy, but that is far from true. When he was just 7 years old, his parents separated, leaving him in the care of his grandmother, Lady Navajbai Tata. Acquiring his bachelor's degree from Cornell University in 1962, he got a prominent job offer from IBM, which he had to turn down and return to India when his grandmother became sick. Thereafter, he joined the family business and started his career with the Tata steel division as an apprentice on the shop floor of its Jamshedpur plant in 1962, where he shoveled stones and worked with the furnaces along with other blue-collar employees. This manual labour was in stark contrast to the lifestyle he was accustomed to, and inspired in him a deeper respect and understanding for his family business.
Source: cloudfront
After a series of promotions, he was finally appointed as the Chairman for Tata group by J.R.D Tata in 1981. The decision was initially questioned by many of the individual company heads and a lot of innuendos floated around about his savvy and ability to run the whole business. The age-old company executives were especially disappointed, considering that J.R.D. favored Ratan's decade-long experience over their years of experience. After the chaos created over his appointment died down, the world saw the real Ratan Tata in action, which left no room for doubt that his appointment as Chairman was the best thing that could have ever happened to Tata. His open mind, unassailable will and calm demeanor took Tata to dizzying heights.

Ratan worked toward the re-establishment of the group's identity, exiting slow businesses such as cement, textiles and cosmetics while increasing focus on newer markets such as software, telecommunications, finance and retail. During his term as Chairman, the Tata group acquired several companies including Tetley, Jaguar Land Rover, Corus etc. and unveiled India's cheapest passenger car, Nano. This project proved to be the pinnacle of his innovation journey and kept afloat the ethos of Tata group, accounting for the generation of huge overseas revenue.
Source: Network18

He brought the organization together in a more cohesive way than it had been in the past so that it was able to identify itself more as a group. This was one of his biggest achievements, and one of the most important reasons why the Tata group is one of the world's most valuable global brands today.
"The day I am not able to fly is a sad day for me."- Ratan Tata, Tata Group of Industries.
He proved this statement every day of his life, as the Tata group gave the world something to talk about every day under his reign. He still hasn't stopped flying, and even after 5 years of retirement, he cares about Tata's Trust initiatives. He spends time with students and aspiring young entrepreneurs guiding them to the best of his ability, and is now focusing on enhancing the quality of life in rural India.

Both Dhirubhai Ambani and Ratan Tata are Padma Vibhushan recipients, the second highest civilian award of the Republic of India. But no award is enough to recognize the contribution of these great entrepreneurs. They might have faced different hardships in their respective journeys, but their achievements are equally great. The legacies that these great men have left behind are an inspiration for every aspiring entrepreneur out there. Where Dhirubhai Ambani proves that one doesn't need to be born with a silver spoon in order to become successful, Ratan Tata exemplifies how one can rise above all contempt and apprehensions and be a role model for the world.
Source: Virtuozo

These golden men brought about a revolution in India's world of business. Tatambani is the skeleton of the Indian economy, and if today India is the third biggest economy of the world, it is only and only because of them.